9 Strategies to Brighten Your Home
9 Strategies to Brighten Your Home
No one likes a dark, dingy, or enclosed space. Here are 9 easy to implement strategies to make your home feel bright, spacious, and airy.
Written by Liz Bayardelle, PhD | See Comments | Updated 03/12/2019
Want to cut to the chase?
Repeating Item Cleaning Plan
Want to cut to the chase?
Repeating Item Cleaning Plan
Get the Free Printable PDF Now
Get it Now
9 Strategies to Brighten Your Home
This post contains some affiliate links for your convenience. Click here to read my full disclosure policy.
I absolutely hate dark, stuffy spaces.
I actually begin going mildly crazy without a ton of bright, natural light. My husband frequently jokes that I must have connections at the power company, because he will often come home to what seems like every light in our house turned on.
However, since I don't actually have a hook up at ConEdison, I've been doing a lot of research on how to make rooms with less-than-optimal lighting feel brighter.
How Can I Brighten Up a Dark Room?
It's amazing what a bit of extra light can do in your rooms. It will help to open them up, which has the added bonus of making them look quite a bit larger than what they are now. Even smaller rooms will really benefit from some more natural light being brought into them because of the illusion of space that it will create.
Unfortunately, allowing more natural light into your home isn't always possible.
If you do have the chance to renovate and add those double hung windows you've been mooning over, then do it. Bringing in as much light as humanly possible is always the best option, right? Choosing the right way to bring in light will instantly brighten the house, but you might have to think beyond that and choose other ways to brighten up your home if you can't do it with extra windows.
After all, you will only have so many windows that the sun's rays can shine through. Our house has fantastic natural light on one side, but the other side has the overwhelming aura of an underwater grotto. It didn't help that the previous owners had it painted a murky green color. (No idea why...we moved in to lots of weird design choices…)
However, just because a room (or an entire side of your house) doesn't get good natural light, it doesn't mean that you have to put up with a dim and dark home for good.
There are actually a few great measures that can be taken to try to improve the flow of light into the property as much as possible, without breaking the bank.
What follows are my top strategies to make a dark, small space feel bright and spacious.
Strategy #1: Move The Furniture Around
Even doing something as simple as moving furniture around could really help you increase the amount of natural light in your rooms.
Even if a piece of furniture isn't right in front of a window, it could still be blocking the flow of light through the room. If you have any pieces of furniture a few feet away from the window, try moving them slightly further away. You can also arrange furniture so it points towards a window, naturally positioning people towards the light.
This will open up the immediate space around the window, maximize the light that gets into the room, and make sure people in the room are properly situated to benefit from all the light that does get in.
Strategy #2: Keep Your Windows Clean
I'm always shocked how much of an effect this one actually has.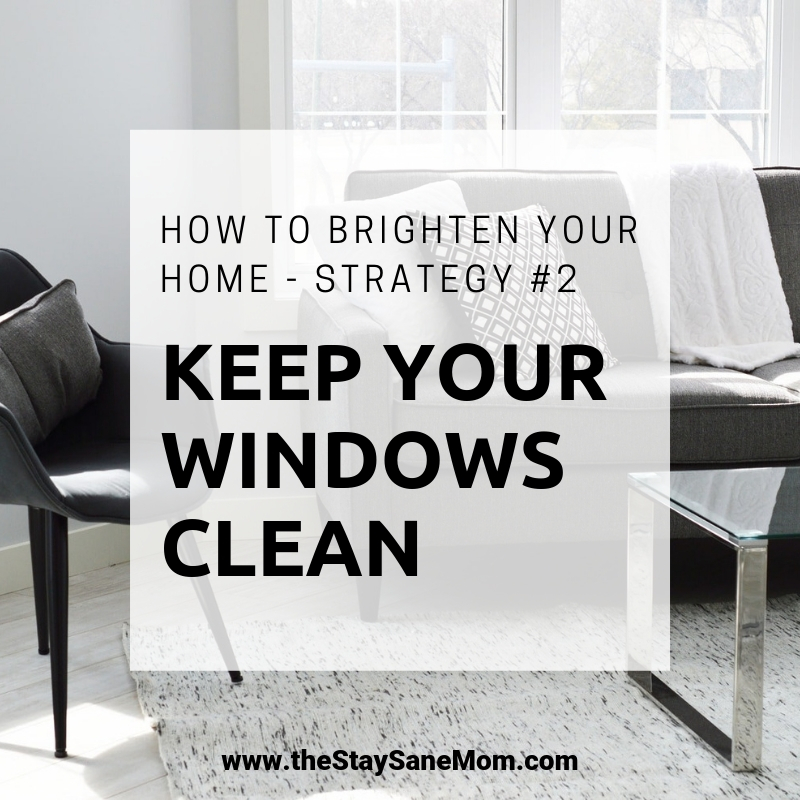 I clean the windows in our kitchen/living room at least once a week. It's just part of my routine and I love the added brightness. All you have to do is a quick runthrough with windex and a rag (or balled up newspaper) to remove any smears or marks that could be blocking light from shining through.
If you don't already hire window cleaners to come and clean your windows once a month, it's worth finding one to come and help you out with this. Having clean windows that allow more light through really is worth the expense.
Strategy #3: Be Strategic With Artificial Lighting
It's also possible to use artificial lighting to enhance the natural light in your rooms.
However, you need to be careful when using this. Sometimes artificial light can actually detract from the benefits that natural light brings. For instance, you should consider adding some wall lamps or sconces to corners of rooms that are particularly dark.
Artificial light is usually also beneficial in corridors and alcoves, which are notoriously difficult to light just with natural light.
Also be careful of light tone. Some lights feel harsh and "hospital-y", while others are so warm that they feel like candlelight (and not in a good way...in a 'why am I living in a medieval castle' way). When we lived in New York (where there's a pretty prolonged grey, winter, sunless period), hubby actually got me a lamp that mimicked the spectrum of the sun's actual rays. IT WAS THE BEST. I literally carried it around the house with me in those winter months.
Moral of the story, do some strategic planning with artificial lighting to supplement the natural light a room does (or doesn't) get.
Strategy #4: Hang Some Mirrors
Have you noticed that hanging a few mirrors in a room will help it feel a lot brighter as well?
We discovered this one almost back then. When we moved in, the previous owners had left 4 or 5, extraordinary large, very expensive, ornate mirrors behind. I felt bad throwing them away, so we hung them up decoratively and the our guest room. This room is exceedingly bright. It's a very small, one windowed room, but I started noticing that it was literally the brightest room in the house. It took me a shameful amount of time, but I finally realized that it was the mirrors that we're doing the trick.
This is because the natural light coming through the windows will bounce off the mirror and be reflected around the room.
To make the most of your mirrors, you should try to hang them on the walls right opposite the window. That way, a large amount of natural light will hit them and then be reflected throughout the room. It's even worth trying to hang some mirrors opposite each other, as the light will then be reflected twice.
Seriously, I did not expect this one to actually work, but it is a lifesaver!
Strategy #5: Opt for Window Decals Instead of Shutters
This is another one that was born out of trial and error. The Dark Side of our house, as previously described, is not only the side facing away from the Sun, but it's also the side facing towards the street.
This might be because I didn't grow up in a big city, but I absolutely hate being watched. I don't like being able to see my neighbors out my window, and I don't like seeing people walk by with their dogs and wave to me inside my living room. Creepy.
For this reason, for the first six months we lived in our house we kept the storm Shutters on the dark side of our house shut almost all the time. As you can imagine, this did not help make that area any brighter. Also, due to the floor plan, this side of the house has a very high ceiling, which meant that the small in ceiling lighting that is present who is almost non-existent by the time you reach the ground where humans stand.
Enter the life-saving window film. I found some really inexpensive window film that, when adhered to your window, makes it look like opaque or stained glass.
I was really skeptical at first, because I was scared it would look tacky AF, but I was shocked both at how easy to apply it was and how professional it looked. My husband, who spent summers as a youth working construction, actually commented on how professional it looked.
Now, we can keep all of the windows open on the side of the house all the time, without fear that people are going to walk by and stare into our living room window. It's also great because when the sun sets the windows all light up with beautiful red and orange colors, even though you can't see the sunset from those windows.
Strategy #6: Paint Walls White
If you have been thinking of redecorating a few of your rooms and can't quite decide which color to go for, I have a great suggestion for you: white!
Some people think that white would be quite boring on their home's walls, but that really isn't the case. (Feel free to tell these toxic people that your internet friend Liz says to get out.)
White is good for a number of reasons. It will help you create a completely blank canvas where any kind of hanging art will look good against it. You will be able to brighten the room with colorful prints, rugs, and furniture without worrying about it clashing with the walls.
Not only that, white is also a great help when it comes to reflecting natural light around the room, just like mirrors.
It's best to go for a shade that is slightly off-white, as pure white walls can sometimes look quite sterile. If you go for off-white, it will still help reflect light around the room but will also create a really comfortable ambiance in your home.
Strategy #7: Go For Polished Flooring
Surprisingly enough, the flooring that you use in your rooms will also have a real effect on the brightness of the room.
Carpets won't reflect any light at all, so these can sometimes make a room seem quite dark. However, if you go for a polished flooring, such as wood, stone, or tiles, then you will find that the light bounces off these quite well.
Don't worry about these hard floor making a room seem quite cold. You can add a few rugs so that there is some soft fabric that can add some comfort. Just don't completely cover the floor with the rugs otherwise you will lose the benefit of the polished flooring!
If you, like me, have dark floors are floors that aren't shiny enough, I would highly recommend using a mop on floor finisher or polisher. I was skeptical at first, but once I found one that I really like, it made such a huge difference in how shiny and new looking my floors are. I reapply mine once every 6 months or so and it keeps my floors extremely shiny.
Strategy #8: Replace Your Windows
If you have a bit of extra money to spend on your home, replacing too small or dingy windows can be a huge improvement in the mood of your entire house.
If you speak to a company like Southside Window, they will be able to visit your property to see if it would be possible to add some larger windows and doors. Increasing the size of your windows will let in a lot more light Will make a magnificent difference in the overall brightness of your house, even if you only make a small change.
Unfortunately, this can be quite expensive work to get carried out on your home, but some window companies will allow you to follow a payment plan to make it easier for you to manage your finances.
Strategy #9: Add Skylights To Upstairs Room
While we're talking about more expensive changes, skylights are definitely one of my "ultimate wish list" improvement plans for our house.
If you can afford a bit more work on your home, then you should consider adding some skylights into some or all of your rooms on the top floor. (These are windows that will be installed into the roof, just so we're on the same page.)
As you can probably tell, this will mean that light will be shining directly down through the windows, and can really illuminate a room. These windows often bring in a lot more light than ones in walls do.
The Take-Home Message
An insufficient amount of light in a room can really ruin your mood. Not only am I interminably cranky if the house is too dark, there have also been scientific studies that show light has an effect on health, psychological well-being, and productivity.
Well you might not have the money or inclination to undergo major construction projects right now, there are still some things you can do in a couple of minutes (like rearranging your furniture or artificial light sources) which can have a significant impact on the brightness of your house.
Over time, as you renovate, if you keep this in mind you will be able to transform almost any space into something that feels light, airy, and spacious.
Start Your Next Step
Repeating Item Cleaning Plan
Start Your Next Step
Repeating Item Cleaning Plan
Get the Free Printable PDF Now
Get it Now
Get Sanity, Delivered to Your Inbox.
About the Author
Liz Bayardelle, PhD
Founder | Contributor
Liz (or Dr. Mommy, as her toddler started calling her after learning what a PhD was) is the happily sleep-deprived mom of a toddler (and professional raccoon noise impersonator), a sparkle-clad kidnado, a teenage stepdaughter, 200 cumulative pounds of dog, and herd of dustbunnies (if daily vacuuming doesn't occur). During nights and naptimes, she uses her PhD in business psychology as an author, speaker, and consultant. She also serves as an executive and principal for three companies, two of which she co-founded with her very patient (and equally exhausted) husband.
My Motto: All I can control is how hard I work.
Motto: All I can control is how hard I work.