Home Improvements That Will Add Value To Your House
If you have the renovation bug, here's a guide to renovations which will end up paying for themselves when it comes time to sell your house (eventually).
Written by The Stay Sane Mom Staff | See Comments
Published in House on February 20, 2019

This post contains some affiliate links for your convenience. Click here to read my full disclosure policy.
You know the feeling well.
You just visited a friend's house and they have a gorgeous bay window, you saw the neighbors putting in AstroTurf and started to drool, you read an article about how much money do people save after they install solar panels…
Yes, you are thinking about remodeling your house. Again.
While it seems common to make home improvements to add value to your house before you sell, it also seems a little strange that so many people only improve their home for someone else to enjoy.
One of the reasons could be justification. You don't really have a good reason to renovate right now. It's hard to justify spending the money.
However, it's easy to justify spending some money when we are going to see a return from it.
Fortunately, there are actually ways you can go about improving your home that both feel your need to constantly renovate and actually make you money in the long term. This way, you can have your AstroTurf and eat it too.
(Please don't try to eat AstroTurf.)
Add Extra Space
A well-built conservatory or extension can add valuable extra space to your home. An attic conversion can also repurpose existing space into a usable room, as can a finished basement.
Make Sure It's Functional
If you're considering extra space, make sure that it will actually be functional space. A conservatory or attic conversion that's too hot during the summer and freezing in the winter won't be as enjoyable. Working with a reputable company with a proven track record can help to ensure the latest materials and standards are used. Considerations should include insulation of walls and floors, how the space will be heated or cooled, and the use of energy efficient glass.
Make Sure You Plan Ahead
When converting a loft space it's critical that it's well planned.
Putting a new staircase in a box room will negate a lot of the potential added space and value. While the temperature of a conservatory is obvious, not everyone realizes just how hot a loft space can get if not properly converted.
Also, the work must be sympathetic to the style of your home. Brickwork, fixtures, and window frames should compliment your property, not look stuck on.
The Benefits of Additional Space
Obviously, the main benefit of having additional space is having a little bit more room to not trip over your own family members during your day-to-day life.
However, having a higher square footage or even a higher number of bedrooms when you go to sell your house will do great things for your listing price. You can list a 4 bedroom house for a great deal more money than a 3 bedroom house, so you can actually make money off of it when you decide to add space to your home.
Increase the Energy Efficiency of Your Home
While many of the steps you can take to increase the energy efficiency of your home will remain unseen, they do help to improve your enjoyment of your home.
They will help to lower your bills (yahoo!) and make your home a more pleasant place to live by making it cooler in the summer, warmer in the winter, draught free, and provide temperatures that are more consistent.
The Wonder of Solar Panels
Solar technology and storage have improved considerably over the last decade.
There are many different systems available and you might be surprised by just how efficient, unobtrusive, and cost-effective a modern installation can be. They will considerably reduce your energy bills while making your home more appealing to any potential buyers if you decide to sell in the future.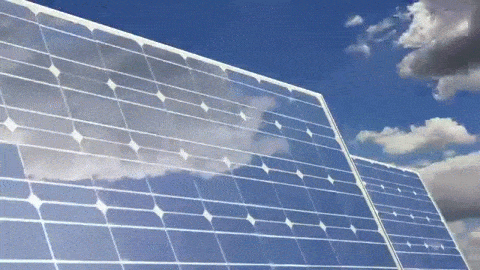 The first summer after we installed are solar panels was insanely hot. My husband and I would high-five each other every morning and turn on the air-conditioning, knowing that our bill would be the same whether we turned on the air-conditioning or not.
As well as considerably reducing the monthly running costs of your home, energy efficient homes are also better for the environment.
Seriously, this one is a win-win, and most companies don't even charge you for installation (you're technically renting the solar panels, not buying them).
Improve Your Insulation
Improving the insulation in your home, especially if you have an older property, can make a big difference throughout the year. The type of insulation that will be best for your home will depend on its construction materials, age, etc.
It's a good idea to consult an expert for advice on what will work best for your particular home.
Replace Your Windows
It's pointless insulating your home if your windows let all the warmth escape.
If you use high quality and complementary materials, this step has the added bonus of making your home more aesthetically pleasing. While a quality installation like the ones performed by Renewal by Andersen windows will help to keep the heat in during the colder months. The right glazing could also help to keep your home cool during the hotter months too.
Update Your Appliances
The difference in efficiency between an old and new appliance is staggering.
Spending the money to upgrade your appliances will save you money, make your kitchen (or laundry room or wherever) look better and make your life easier.
Also, there are a shocking number of older appliances that actually cost you a lot of money on your utilities bill. Upgrading your dishwasher or laundry machines could end up paying for themselves after a couple months, if you have real energy guzzlers.
Update Your Garden
While you can just tidy up your existing garden by spending a couple of weekends with your gardening gloves on, you can also turn it into an outdoor space you will want to spend as much time as possible during the summer months.
Whether a low maintenance Japanese style garden or a large lawn with a BBQ area, a well-planned garden can increase your enjoyment of your property significantly.
Most gardens are big enough to accommodate several uses. Consider the ways you want to use your garden. Do you want to host parties for your friends, but also enjoy a little quiet time with a good book? You can have both if you spend a little preparation time planning your design.
Create More "Curb Appeal"
The term "curb appeal" refers to how enticing your house looks when someone first drives up.
Basically, the better your house looks from the outside, the quicker it will eventually sell and for a higher price. Even if you're not considering selling in the near future, having a house that's pretty from the driveway will increase your quality of life.
We recently repainted our home, and every day my husband would come home from work and his first comment would be "our house looks so good". There's just something soothing about driving up to a tidy front yard and a house that looks taken care of.
While this is predominantly mentioned in relation to selling your home, added "curb appeal" can also make you prouder of your home and impact the way you see your own home. Ensuring your front garden is to your tastes and well kept can make pulling up outside a pleasure.
Another good way to add a touch of class to the front of your home is by adding a stylish front door, which will create a strong first impression. Updating your windows will also add curb appeal while making your home more efficient.
Renovations that Pay for Themselves
If you find yourself longing to renovate your house, take a little time and research which improvements would end up paying for themselves in the long run.
Things like changing the color of paint in your kitchen might not benefit you financially, especially if you've done it several times or if it's fine to begin with. On the other hand, adding solar panels, putting on an addition, or fixing basic maintenance problems should probably not qualify as "splurge renovations" in your head, so much as long-term Investments.
Regardless of whether you're considering selling, using a bit of imagination and personalization can help you turn your home into a space that is more rewarding and usable for your whole family.
Modern life can be stressful, so creating a family home that encourages all of the aspects of your life that you enjoy the most can make your home a little oasis of peace and love in a hectic world.
Get Sanity, Delivered to Your Inbox.
About the Author
The Stay Sane Mom Staff
Contributor
Occasionally we post blogs that are a team effort from The Stay Sane Mom staff. Fear not, these are still up to our quality standards, they just don't come from any one person (rather the team at large). As my 4-year-old says, teamwork makes the dream work.
My Motto: You can be an overnight success ten years after you started.
Motto: You can be an overnight success ten years after you started.
As an Amazon Associate I earn from qualifying purchases and occasionally participate in other linking programs, but I will never link to anything I don't like.
Copyright © 2021 The Stay Sane Mom