Top 10 Reasons Babies Wake at Night and Common Misconceptions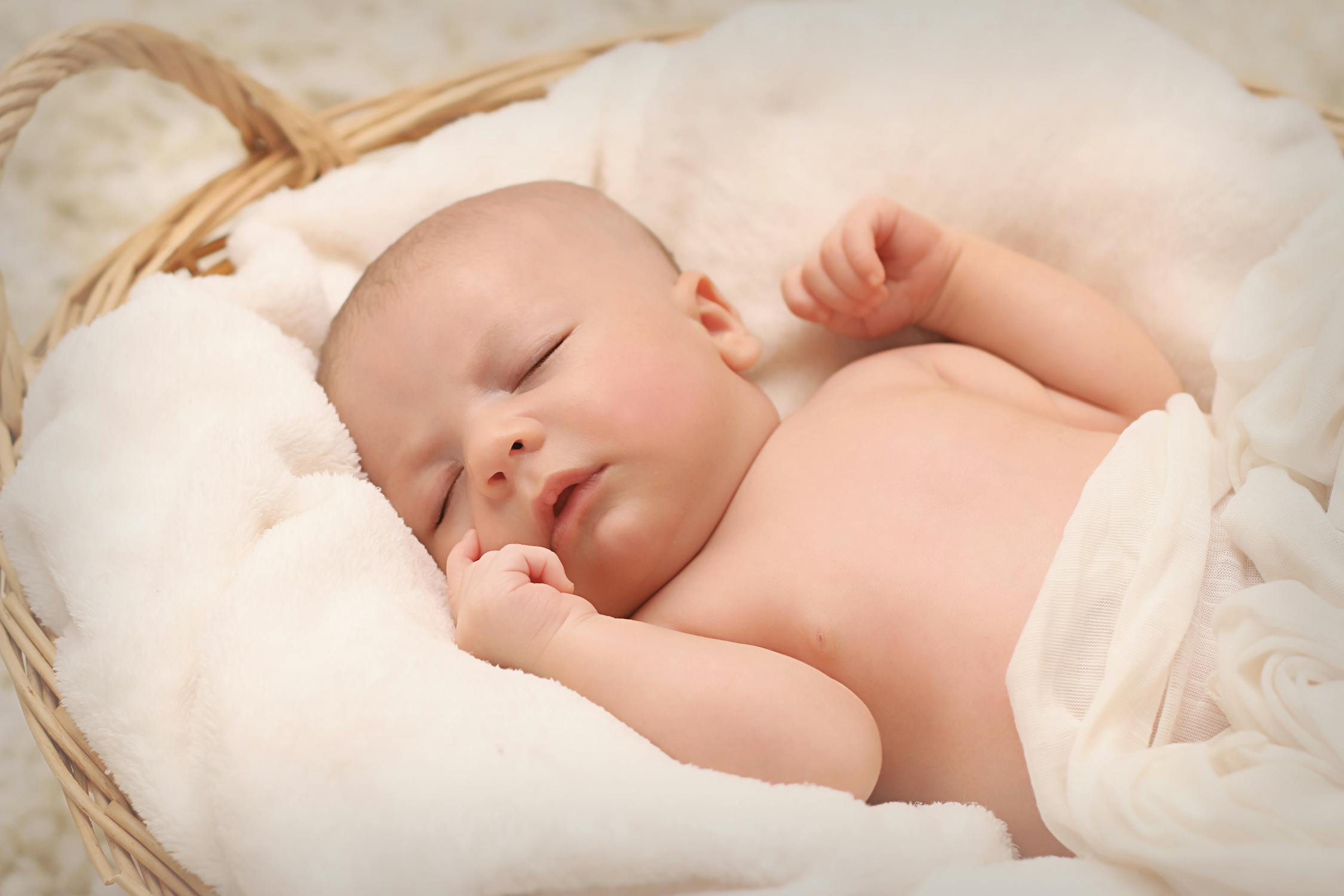 Top 10 Reasons Babies Wake at Night and Common Misconceptions
New parents expect to be up with a newborn but at some point, we expect babies to sleep through the night. But, many times, babies continue to wake at night leaving their parents exhausted. Here are the top 10 reasons babies wake at night.
Written by Nicole Johnson | See Comments | Updated 07/13/2022
Want to cut to the chase?
Baby Milestone Cheatsheet
Want to cut to the chase?
Baby Milestone Cheatsheet
Get the Free Printable Guide Now
Get it Now
Top 10 Reasons Babies Wake at Night and Common Misconceptions
This post contains some affiliate links for your convenience. Click here to read my full disclosure policy.
1. Hunger
Hunger is the #1 reason for a baby waking at night. And, of course, this isn't a surprise. But it is an important thing to include on this list because parents often have unrealistic expectations. Newborns need to eat around the clock, but even older babies need one (or possibly two) feedings at night. While your friend's baby might have been sleeping through the night by 8 weeks old, some parents are surprised to learn that their baby needs to eat at night until 6 months old for formula-fed babies and 9 to 12 months old if they are breastfeeding. Also, babies with reflux tend to eat smaller meals during the day and often have a night feeding for a longer period of time, too. At the same time, if your baby is eating more than twice a night past 3-4 months old, more than likely your baby has a sleep problem rather than a hunger problem. See #3 below.
2. Wet/Leaky/Dirty Diaper
Babies wake up when their diaper is wet, leaking, or dirty with a bowel movement. Again, this one isn't surprising but something to keep in mind is you typically do NOT have to change a wet diaper at night past 6 months old unless your baby is very sensitive. Most disposable diapers keep moisture away from your baby's skin very effectively so most babies will sleep through wet diapers. And most babies will stop having a bowel movement at night quite early in life. Bowel movements may increase at night again, temporarily, when you start solid foods. If your baby's diaper is leaking, consider going up in size just at night or using a "nighttime diaper."
3. Sleep Associations
Rocking, bouncing, or feeding your baby to sleep isn't necessarily a problem – that is until your baby needs you to redo it over and over all night. Some babies will be put to sleep and sleep through the night. In that case, there isn't a problem. However, if your baby is waking at night simply to get put back to sleep by you, we call this a "sleep association."
We all wake between sleep cycles as that's normal, but we typically simply go into our next sleep cycle if we don't "need" anything. Unfortunately, many babies wake up at night due to sleep associations that involve a parent. Parents need to rock, bounce, or feed the baby repeatedly in order to get the baby back to sleep. The big problem with this is that parents can be awakened every 1 to 3 hours all night long in some cases. This is obviously exhausting for the entire family, and it can last for months, or even years, if you don't teach your baby another way to sleep! We all have sleep associations such as a mattress and a pillow. If we go to bed with a pillow, then wake up in the middle of the night without a pillow, you are more likely to wake up more fully and look for your pillow. It will be very difficult to go back to sleep without a pillow unless you purposely try to train yourself to do so. We can all learn a new way to sleep, however, it takes time and practice. One of the primary keys to helping your baby sleep better is to change their sleep associations such that they don't involve a parent or other caretaker. Teach babies to self-settle and they can sleep in longer stretches at night and nap time.
4. Sleep Regression
A sleep regression is a temporary phase when your baby's sleep gets worse after they were sleeping fine. And your child will go through about four or five sleep regressions in the first two years of life. During a
sleep regression
, your baby is likely reaching a developmental milestone and will begin to wake a lot at night and/or take short naps. Unfortunately, sleep regressions typically last 3 to 6 weeks and leave families exhausted and confused. These regressions most often occur around 3-4 months old, 8 to 10 months old, sometimes 11 months old, 18 months old, and 2 years old. Since children grow and change frequently, it can feel some babies are perpetually going through a sleep regression and struggle to sleep well. Some temperaments and personalities are more sensitive to changes and therefore, might have a harder time getting through various phases in childhood.
5. Teething
Babies get teeth on and off for 2+ years. During the peak of the tooth cutting through the gums, a baby's sleep may be disturbed. Unless your baby is getting more than one tooth back-to-back, if your baby is waking at night longer than a few nights, your baby likely has a different sleep problem such as a sleep association (see #3 above.) Although teething can be uncomfortable and painful for some babies, other babies can sleep straight through the teething process. Many parents erroneously attribute frequent night-waking to teething when it is rarely the case for constant sleep problems that last for weeks and months.
6. Illness
Inevitably, no matter how much you clean or keep your baby away from germs, they will get sick. During an illness, babies wake often at night. If they have an ear infection, babies can wake up as often as every 20 minutes. During an illness, babies often need more comfort so even if you get your baby back to sleep, they tend to wake more frequently than when they are well. To heal from an illness, sleep is beneficial so it's often best to provide as much comfort to your baby as possible until they are on the mend.
7. Napping Too Much
It's great when babies take long naps! But they can occasionally get in the way of nighttime sleep. Your baby's total sleep in a 24-hour period tends to average the same over time. If your baby is sleeping too much (usually more than 2-3 hours total past 5 months old), this can lead to waking at night. If they are staying awake for 1 to 3 hours in the middle of the night, this is usually caused by too much daytime sleep. Frequent night-waking can also be a cause of too much daytime sleep though it can easily be confused with a sleep association (see #3 above.) It's important to put your baby on an age-appropriate schedule to help them balance daytime and nighttime sleep. Nighttime sleep is considered more restorative so be cautious how much daytime sleep you allow. While most will self-regulate sufficiently, some babies need more "nap management" than others.
8 Over-Tiredness at Bedtime
While it may seem to make sense to keep your baby up later at bedtime so they will sleep more at night, the reverse is usually true. Our bodies release hormones to fight fatigue, so if a baby is overtired at bedtime, it's harder to fall asleep and harder to stay asleep. Babies will have restless sleep because they are too "wound up" to stay asleep. These babies are more likely to cry more, wake frequently at night, and wake too early in the morning. Moving bedtime earlier can make a significant difference in your baby's ability to sleep through the night. Until your baby is 8+ months old, babies typically need to go to sleep for the night within 2 to 3 hours from waking from their last nap. Once your baby gets a bit older, 4 hours is a common wake window before bedtime. If your baby is fussy and rubbing their eyes before bedtime, try moving bedtime 20-30 minutes earlier and then reassess.
9. Room is Too Bright
Light signals our brain to wake or sleep. It is how our proverbial "internal clock" gets set. If your baby is having trouble falling asleep at bedtime or waking up too early in the morning, and the sun is up, it's possible the room needs to be darkened. Room-darkening blinds or curtains can help your baby sleep much better at night and in the early morning. Darkening the room can also help more perceptive babies nap better during the daytime, too.
10. Room is Too Noisy
Despite what many people think, unfortunately, not all babies can learn to sleep through noise. Some babies and toddlers are simply light sleepers. Even small sounds might wake these babies up! On the other hand, complete quiet can be deafening for your baby when they were in a womb for 9 months. Babies tend to sleep best when white noise is playing in the background. White noise tends to mimic womb sounds and the monotony of the sound helps keep them asleep. In addition, it helps mask any house noises that might otherwise wake them up such as the dog barking or dishes clanking in the sink.
Start Your Next Step
Baby Milestone Cheatsheet
Start Your Next Step
Baby Milestone Cheatsheet
Get the Free Printable Guide Now
Get it Now
Get Sanity, Delivered to Your Inbox.
About the Author
Nicole Johnson
Contributor
Nicole Johnson is the founder and lead sleep consultant of The Baby Sleep Site®. Since she began in 2008, and with the help of her team of sleep consultants, she has helped over 40,000 families improve their sleep. She has also held a position on the board of the International Association of Child Sleep Consultants (IACSC) since 2015. Millions of visitors land on The Baby Sleep Site each year, and Nicole and her team are here to find solutions for your family's sleep problems that will match your baby's temperament and your parenting style.
My Motto: Helping You and Your Child Sleep
Motto: Helping You and Your Child Sleep